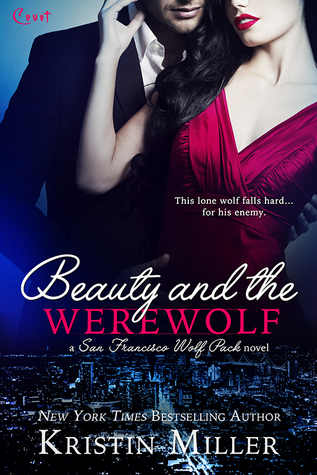 Unmated werewolves don't normally live past three hundred years old...and billionaire Jack MacGrath is cutting it close. Sure, he has almost everything—the respect of his peers, a mansion in San Francisco, a private jet, and fast cars. But without a mate, Jack's in trouble. Then he sees her. Gorgeous, proud...and his enemy.
Isabelle Connelly is good at hiding things from her father. Like her success as a painter, or the incredibly intense attraction she has to Jack MacGrath. After all, she's royalty and falling for anyone lesser—to say nothing of a rival pack—would be, er, unseemly. Now she must choose between her duty to her family and her pack...or her perfect fated mate.
"Tell Mr. MacGrath that Isabelle Connelly is here to see him." She spoke loudly into the intercom. "I'd like to make an offer on his newest piece of acquired art: Werewolf in Venice."
Silence followed after a deafeningly loud crackling sound.
Five minutes dragged by. She tapped her fingers on the steering wheel and refused to move. Stared at the intricate ironwork on the gate.
"I'm not leaving," she mumbled to herself. "Not until I get my painting."
Billionaire or not, everything had a price.
She'd simply have to make him an offer he couldn't refuse. Hell if she knew what that was, though.
Without warning, the gates let out a groan, startling her. She jumped in her seat and watched them open slowly, revealing a winding stone-paved driveway. She put the Camry in gear and drove toward a towering fountain erected in the middle of the driveway.
But the closer she got to the fountain, the slower she drove.
She gawked, mouth hanging open in disbelief.
Good God, the fountain was hideously phallic. Like a giant penis standing ramrod-straight in the middle of a gravel bed. Water bubbled up from the tip, making her throw up a little in her mouth.
Craning her neck around, Isabelle shook her head and scoffed.
It was a disgustingly perfect fountain for a guy like Jack MacGrath.
As she turned, veering away from the fountain—out of pure instinct—she realized she was now parked facing the stairs to his mansion. And took up the width of the driveway, hood to rear end.
She should've just parked next to the damn thing.
Glancing in the rearview mirror, she reversed carefully. As she inched closer to the penis monolith, the unmistakable whop-whop-whop of a helicopter sounded in the distance. The racket increased.
Was a helicopter landing on the damn house?
She bent, craning to look beneath the doorframe. She searched the sky. One way, and then the other.
A freaking helicopter swooped over his house, making a low dive over her car.
She squealed, ducking low in her seat.
The thunderous flac-flac-flac of the blades drowned out everything—the rumble of the Camry's engine and the drumming of her own heart—as it dropped out of the sky and hovered above the large lawn on the opposite end of the estate. The chopper was massive. Menacing. A door on the side slid open. A rope was flung out, hitting the grass.
With a jolt, the tires of her car ran over something crackly. Her car bumbled. Shook. And then backed into something solid.
"Oh, shit!" Isabelle gripped the wheel tight and slammed on the brakes. Whipping around, she glared out the back window…and caught the breath in her throat. She must've been inching back without realizing it. She'd rear-ended the giant penis. It wobbled, shook. The tip seemed loose, teetering on the thick base. "No, no, no, don't—"
And then it fell. Dropped right to the ground with a thud.
Melina Rosenthal worships at the altar of all things fashion. Her dream is to work for the crème de la crème fashion magazine, Eclipse, and she'll do much anything to get there. Even fixing up the image of a gorgeous, sexy public figure who's all playboy, all the time. Even if he's the guy who broke her heart a year ago...
Even if Hayden Dean is a werewolf.
Since his father's death, Hayden's the heir apparent to the San Francisco Wolf Pack—well, once he settles down. Hayden isn't interested in giving up his partying ways, except he's pretty sure he's found his fated mate, and the fact that she's a non-shifter is bad news. Now he must find a compromise between the traditions of his wolf world and his certainty that Melina is his...before fate (or another werewolf) bites them both in the butt.
BEAUTY AND THE WEREWOLF'S PLAYLIST & GUEST POST by Kristin Miller
Music is such an inspiration for my wolf pack books. I listen to it every single day I write. Well, allow me to rephrase. I listen to the same songs on repeat as I write each day. Yeah, I just revealed my little bit of crazy.
My process may be odd, but it allows me to write and edit a category romance novel like BEAUTY AND THE WEREWOLF in four to six weeks. While it's not perfect at that point, the first draft is produced much faster than ones where I didn't listen to music at all.
I listen to Spotify radio (either David Gray or Otis Redding), and let the songs cycle through the station as I write. Then, when the pace naturally increases, I take whatever song was playing during that time and save it to the book's playlist. I repeat the process until I have a core list of songs (three to ten, usually) that work for the book.
I can't explain why certain songs work and why others don't. Maybe it's the lyrics, the melody, or the message. I can't say. By the end of the book though, I have a list of songs that solidly represent the book as it was written. They're the lyrics that spoke to me as I breathed life into the characters. They're the melodies that had me humming through fun scenes. These songs become the backdrop for the book—the soundtrack that was created organically rather than after-the-fact.
Want a peek into the songs that inspired BEAUTY AND THE WEREWOLF? Here they are in no particular order:
January Rain by David Gray
I Don't Want to Change You by Damian Rice
Ain't No Reason by Brett Dennen
Tears and Rain by James Blunt
Round Here by Counting Crows
Angel by Jack Johnson
Shelter by Ray LaMontagne
The Promise by Tracy Chapman
To Be Alone With You by Joshua James
Arms of a Woman by Amos Lee
What do you think? See any songs there you love?
New York Times and USA Today best-selling author Kristin Miller writes sweet and sassy contemporary romance, romantic suspense, and paranormal romance of all varieties. Kristin has degrees in psychology, English, and education, and taught high school and middle school English before crossing over to a career in writing. She lives in Northern California with her alpha male husband and their two children. She loves chocolate way more than she should and the gym less. You can usually find her in the corner of a coffee shop, laptop in front of her and mocha in hand, using the guests around her as fuel for her next book.