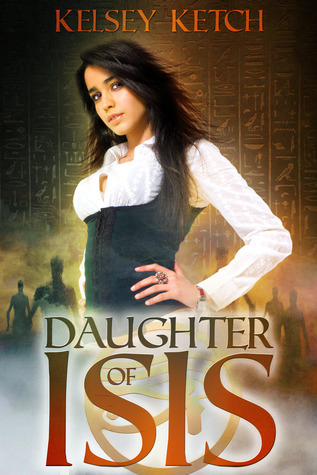 "Her mouth parted slightly, waiting for Seth to breathe life into her own body, just like in the story. She wanted him to awaken her senses."
Their worlds collide in California's high desert.
The last thing Natara "Natti" Stone wants to do is to start anew at Setemple High School. She wished she had never left London. Yet the brutal murder of her maternal grandmother has made her life very complicated. The only clue related to her murder is an ancient, encrypted necklace Natti discovered after her grandmother's death. And if trying to adjust to American life is not enough, Natti is being stalked by a mysterious, charming high school senior, Seth O'Keefe, who is annoyingly persistent in his attempts at seduction.
Seth O'Keefe is secretly a member of the Sons of Set, an order that worships the Egyptian god of chaos. Seth's blessing from Set, his "charm," never failed, except with one person: Natti Stone. Her ability to elude him infatuates and infuriates him, and he becomes obsessed with the chase. But the closer he gets to her, the more his emotions take a dangerous turn, and he risks breaking one of the most valued covenants of his order. The punishment for which is a fate worse than death.
The adventure this unlikely couple becomes engulfed in could cost them their lives and their souls.
*Note: Content for Upper YA*
Descendants of Isis Personality Quiz
1. Choose your favorite color from the list.
a. Red
b. Black
c. Blue
d. Green
e. Pink
2. Pick a food item you most likely eat.
a. Steak, mushroom, and ale pie
b. Anything is good.
c. Tex-mex
d. Corn dogs
e. Salad
3. What interests you most?
a. Tennis
b. Flirting with the opposite sex
c. Reading
d. Gaming
e. Cheerleading
4. What word best describes your personality?
a. Stubborn
b. Charming
c. Hardworking
d. Loyal
e. Subservient
5. What drink would you like to have with your order?
a. Tea
b. Coffee
c. Water
d. Soda
e. Diet soda
6. If you could live in any one of these cities, which would it be?
a. London, England
b. Luxor, Egypt
c. San Francisco, California
d. Los Angeles, California
e. Paris, France
7. How do you describe your fashion style?
a. Sporty
b. Designer
c. Casual
d. T-shirt and jeans
e. Bold
8. How would you describe your love life?
a. Honest
b. Passionate
c. Disappointing
d. Complicated
e. Misleading
9. Which Egyptian god/dess do you relate to most?
a. Isis, goddess of magic
b. Osiris, god of death and rebirth
c. Nephthys, goddess of protection
d. Anubis, god of cemeteries
e. Hathor, goddess of love
Mostly A's:
You are most like Natara. You embrace life. Being healthy is important to you. You eat well and exercise, but you also don't lose sight of what is truly meaningful in your life. You have the gift of seeing people for who they really are, and you accept them for it, no matter your differences. You also value honesty and trust in all your relationships.
Mostly B's:
You are most like Seth. You are extraordinarily confident. You have the looks and charm to win everyone over. Unfortunately, you feel there's still something or someone keeping you from your greatest potential. You seek more from life. A destiny that will give you purpose. Look deep into your heart to find it.
Mostly C's:
You are most like Alison. You hide behind your work in the hopes that it'll speak for itself. You tend to be a little too serious, making it harder to connect with others or even make friends. Yet behind the mask, you are still a sensitive individual with an uncanny ability to see things that others let go unnoticed. Your perception will serve you well.
Mostly D's:
You are most like Kevin. You are the classic small town American. You're all about hanging with your friends, and visiting all the usual haunts you've known since you were five. You have a pure American palate, loving hotdogs and hamburgers; as well as enjoy American pass times such as American football and baseball.
Mostly E's:
You are most like Mandy. You have a presence that makes itself known the moment you step into the room. You are attractive, confident, and know exactly what you want in life. And you often wish to please others, some of whom might not have your best intentions in mind. When setbacks and bad choices lead you a stray, cling onto the hope that something better will be waiting on the other side.
During her high school years, Kelsey Ketch could always be found tucked away in a little corner of the hall or classroom, writing her fantasy worlds and creating illustrations and maps. Today is no different, except now she's writing in the break room at her office building or at the tables of the Barnes and Noble Café in Cary, North Carolina. She is also an avid reader, a part-time book blogger at
Ketch's Book Nook
, and lives with her two orange tabbies and awesome and humorous flat-mate.
For more information, please visit her site at kelseyketch.com.